My Favorite Gift Ideas for the Holiday Season 2023
It's the season for giving, and what better way to spread joy than with thoughtful and meaningful gifts?
Today, I'm sharing with you my favorite gift ideas from the brands inside my Cultish Product program! Whether you're celebrating a special occasion or just want to show someone you care, this gift guide is here to transform your gifting journey into a stress-free and delightful experience. No matter the occasion, the act of giving is a powerful way to connect with others and express your feelings.
Are you ready to start making your next gift-giving occasion one to remember? Below is the list of gifts that are sure to make your loved ones smile!
Pet Essentials
Hands-Free + Convertible Brass Leash by High Tail Hikes
This Hands Free + Convertible Leash is ideal for daily use! It's lightweight and low profile, yet loaded with features. With three fixed D-Rings throughout its length, an adjustable sliding O Ring on the upper section, and a detachable handle, this leash offers the flexibility to function as a standard leash with three length options, be worn crossbody, or securely clipped around the waist. It can serve as a convenient quick tether when necessary (never when your dog is unsupervised), enable double-clipping to your dog's harness, or facilitate walking two dogs at once.
Shop the Hands-Free + Convertible Brass Leash now!
Self Care
Christmas Bubbles Candle by Luminosa Vida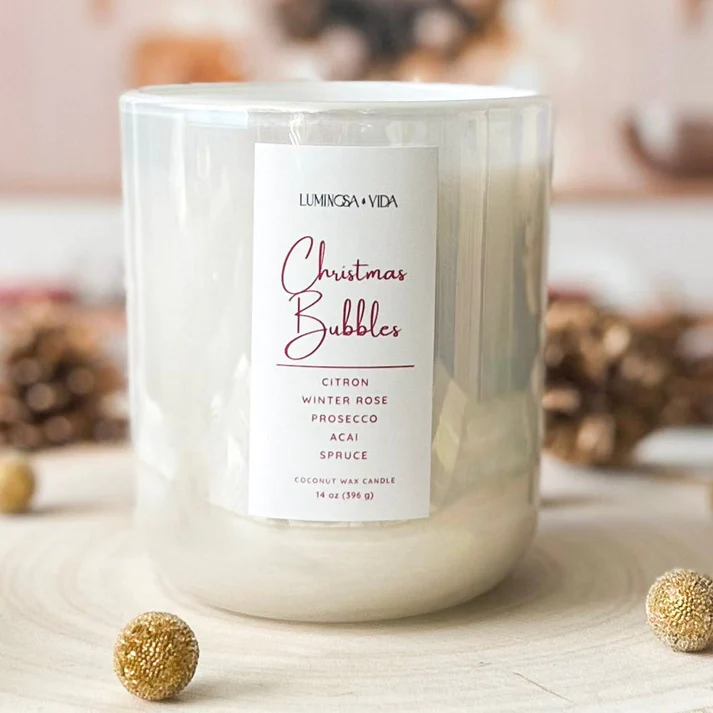 Enjoy the cozy feeling of winter with the Christmas Bubbles candle!
This candle blends the fresh smell of Citron, the romantic Winter Rose scent, the festive feeling of Prosecco, the fruity aroma of Acai, the evergreen smell of Blue Spruce, and the warm Musk scent. It creates a comfy and nostalgic atmosphere that you'll love.
Shop the Christmas Bubbles Candle now!
Lemon & Lilac - Wood Wick Candle by Weathered Wood Home
Crisp Calabrian lemon combined with herbal notes of basil & lilac leaf to capture the brightness of a sunny day.
Shop the Lemon & Lilac - Wood Wick Candle now!
Shroom Serum - A Soothing Probiotic Potion by World of MYŌTH
Adaptogenic, probiotic and antioxidant-rich serum crafted with super-hydrator Tremella, this steeped tincture of shrooms gradually restores skin health and resilience over time:
Deliver hydration to the dermis with the superb water retention of Snow Fungus
Support the flow of cell renewal with adaptogenic Reishi and Shiitake mushrooms
Nurture an ecology of beneficial microbes amidst the skin's microbiome with probiotics
Shop the Shroom Serum - A Soothing Probiotic Potion now!
Accessories
Diana Freshwater Pearl Necklace by Essbe
A modern take on a classic style, this necklace features freshwater pearls. Each one is stunningly unique. While it radiates beauty when worn solo, it can also be effortlessly paired with a chain necklace to achieve an elegant layered appearance.
Shop the Diana Freshwater Necklace now!
Extra Large 14k Gold Filled Tube Hoops by Jewel Ya
The latest addition to our hoop collection: The tube hoop. Versatile, trend-forward and perfect for everyday wear.
14k gold-filled tube hoops measure 2mm x 34mm (the size of a 50-cent piece).
Lightweight for all-day wear.
Secure click closure.
Every pair of Jewel Ya hoops comes in an acrylic storage jar for safe and clean keeping.
Shop the Extra Large 14K Gold Filled Tube Hoops now!
Turquoise Flower Earrings by Briar & Ivy
Captivating Turquoise Flower Earrings, designed to impress and make a bold statement! The meticulous craftsmanship and keen attention to detail elevate these earrings into a must-have accessory.
Material: Alloy, Artificial turquoise
Care instructions: Avoid wearing it during exercise, as sweat will react with the jewelry to produce silver chloride and copper sulfide, which causes the jewelry to deteriorate and corrode over time.
Imported
Product measurements: 2*1.2 in
Shop the Turquoise Flower Earrings now!
14k Gold Vermeil "Stardust" Circle Pendant Necklace by Krista Knickerbocker Designs
Perfect on its own, or layered with other chains, this textured stardust disk hangs from a delicate gold-filled chain. The pendant is hand fabricated from sterling silver, and textured with fused silver dust collected through the jewelry-making process. The final glistening piece is coated with a thick, 14k vermeil gold layer.
This pendant hangs from a delicate, 16" gold-filled chain.
Shop the 14k Gold Vermeil "Stardust" Circle Pendant Necklace now!
Simply Beaded Bracelet (Sterling Silver) by Goldie Links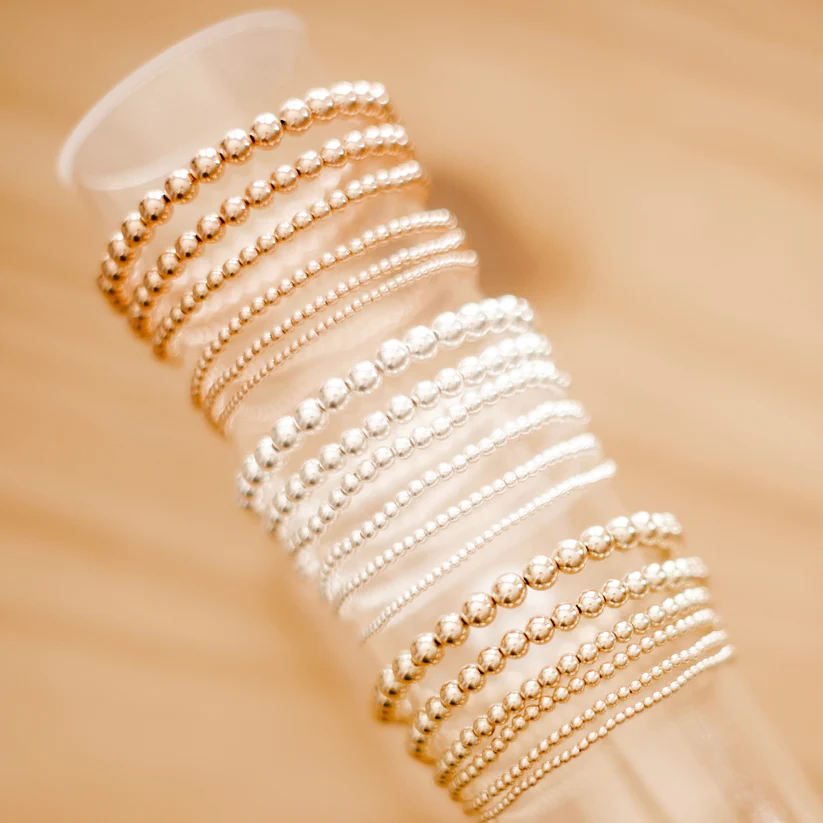 These simply beaded bracelets are amazing on their own or add to a stack! Choose your length (any bracelet can be an anklet, as well!) and the size of beads from teeny tiny 2mm to 6mm.
Shop the Simply Beaded Bracelet (Sterling Silver) now!
Hoop Earrings by Lavish Everlasting Jewelry
Introducing our Everlasting Hoop Earrings – the timeless accessory that effortlessly combines style and versatility. Crafted with precision and attention to detail, these exquisite earrings are designed to stand the test of time and everyday wear.
Clothing
You Did Not Wake Up Today to Be a weak ass bitch® Splatter Tee by Pseudo Force
Have you ever found yourself waking up and instantly trying to convince yourself to hit the gym? Well, those days are over! Pseudo's iconic phrase, "You did not wake up today to be a weak ass bitch," is back, featured on this stylish black and white splatter tee. It also serves as the perfect oversized essential for your rest days when paired with our Weak Ass Bitch sweatpants.
DETAILS:
Handmade in Des Moines, Iowa at Pseudo HQ

Woman-owned business

100% cotton - please hang to dry or tumble dry low.
Shop the You Did Not Wake Up Today to Be a Weak Ass Bitch® Splatter Tee now!
On A Sunday Smocked Midi Dress by Vintage Willows Boutique
Experience comfort any day of the week with our On a Sunday Midi. Crafted from gauzy fabric, it ensures year-round comfort, while charming details like puffed sleeves, hip pockets, and a smocked bust enhance its appeal.
Runs true to size
SO soft!
Smocked bust
Pockets!
100% Polyester
Shop the On A Sunday Smocked Mini Dress now!
Woman's Shirt "Maybe Swearing Will Help" by Beeuteefull Designs
The ultimate gift for those sassy moms who need a little extra oomph in their lives! This crazy shirt is not just a fashion statement, it's a way of life. Whether she's dealing with tantrums, spilled milk, or just life's everyday frustrations, this shirt has got her covered. So go ahead and give the gift of colorful language and a good laugh – because sometimes, swearing really does help (or at least make things more entertaining)!
Shop the Woman's Shirt "Maybe Swearing Will Help" now!
Home Decoration
Daisy Art Print by Fleurdinand
Daisies symbolize various aspects such as motherhood, childbirth, hope, renewal, and new beginnings. The term "Daisy" originates from Old English, signifying "Day's eyes" due to the flowers opening in the morning to embrace the sunlight and closing at night. Daisies serve as a reminder that each new day brings an opportunity for a fresh start.
Print Details:
Art is created by stamping the leaves and petals of the flower
Two sizes available - 8x10 and 11x14
Giclée printed and 100% archival cotton rag paper
All prints are sold unframed
Stickers
Custom Pet Stickers from Photos by RF Design Company

Turn your adorable furry companion's face into a charming vinyl sticker! Simply provide a high-resolution photograph(s) of your beloved pet, and they'll work their magic to bring their cuteness to life on a durable and weather-resistant vinyl sticker. Whether it's your fluffy feline, faithful canine, or any cherished pet, they'll meticulously capture every detail. These customized pet stickers are ideal for adding a personal touch to laptops, water bottles, notebooks, and more, or make for a heartfelt gift for fellow pet lovers. Let your pet's spirit shine bright with this one-of-a-kind, paw-some vinyl sticker!
Shop the Custom Pet Stickers from Photos now!
Books
Customer Obsession: The secret to creating loyal and brand-obsessed customers for your e-commerce business by Kerrie Fitzgerald
Customer Obsession: The Secret to Creating Loyal and Brand-Obsessed Customers for Your E-Commerce Business" is a game-changing roadmap that unravels the hidden strategies behind building an army of loyal customers who not only adore your brand but become its vocal advocates. With topics ranging from customer obsession to creating a cult-like brand, this book is your ultimate guide to revolutionizing your e-commerce business.
Shop the Customer Obsession now!
Curated Holiday Giftboxes
Holiday Giftbox by Bocu
Who wouldn't love a gift box full of Holiday Cheer?
The perfect petite gift to show your employees, your loyal clients, or someone special in your life that you appreciate them. Full of sweet, festive treats and a sentiments candle to bring them a bit of the holiday spirit.
__________________________________________
And that wraps up My favorite gifts for the holiday season 2023!
I hope these gift ideas bring happiness to your friends and family this holiday season. ❤️